Strict Bondage Products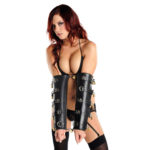 Enter the bondage world with the new STRICT line of products! Every item from STRICT is made of high quality materials and tested to handle serious play, without the high cost. STRICT offers all the essentials for any couple that wants to explore and start bondage play. Dont be timid, be STRICT!
Keep your slaves arms straight and secure with these premium leather locking arm splints. Each arm splint has D-Rings attached that can be used for tying down them down to the body, other objects or even each other. Splints feature 10 welded dees, 5 lockable and 1 inch roller buckles on each arm. Arm splints can be used with or without locks. Note: Locks not included. Measurements: Splints are 16 inches in length.
Check out the Strict Bondage range now
Whether you're scening or just engaging in some bedroom bondage, the last thing you want to worry about is your equipment. Is it holding securely? Can I really struggle without breaking this?  Those are questions that we don't believe you should have to ask. Strict leather is comprised of over 300 products ranging from classic restraint systems to heavy duty bondage gear. All are made with your comfort in mind and designed to last. Whichever play you're into, we've got just what you need.